Natural gas markets are set for a historic transformation after Russia's invasion of Ukraine
By
Fatih Birol
, Executive Director of the International Energy Agency (IEA)
Russia's unprovoked invasion of Ukraine has set in motion major changes in global energy markets.
We are now living through the world's first truly global energy crisis, with volatile prices at or near record levels for a wide range of fuels and critical minerals. This differs from the energy crises of the 1970s when impacts were largely limited to oil, and globalisation was not as advanced as it is today. But as in the 1970s, the current emergency should accelerate innovation, enhance energy efficiency measures and unlock investments in clean energy supplies, including low emissions gases. The world now has an opportunity to build a safer and more sustainable global energy system.
The International Energy Agency has reacted swiftly to the market turmoil caused by Russia's war. IEA member countries have carried out the two largest ever releases of oil from their emergency reserves to counter the risk of shortfalls in supply.
And we acted rapidly to provide timely advice to policy makers, recommending immediate actions in our 10-Point Plan on Reducing the European Union's Reliance on Russian Natural Gas and our 10-Point Plan to Cut Oil Use.
The current crisis threatens the global energy sector and economy in multiple ways. Soaring energy prices are hurting households and industries, adding to inflationary pressures. The sharp spike in natural gas prices has led electricity suppliers to resort to using more coal-fired power generation, which is contributing to higher emissions at a time when the world needs to rapidly accelerate efforts to reduce them.
However, with foresight and well judged policies, governments have the ability to limit the damage from these negative effects considerably.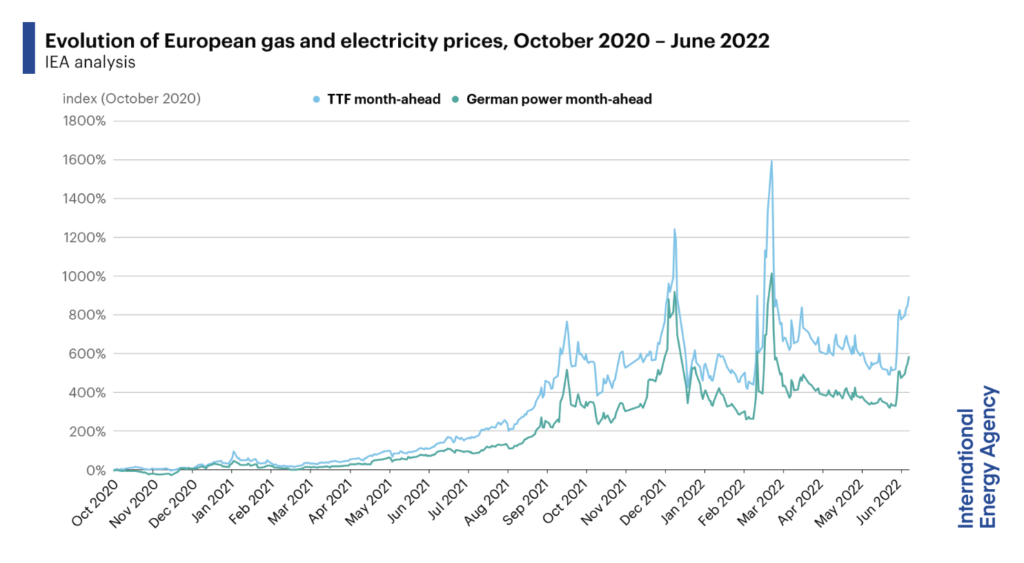 The fracturing of EU-Russian gas trade
Russia plays an oversized role in global energy markets, especially in Europe.
The European Union's commitment on March 11 to phase out dependency on Russian fossil fuel imports "as soon as possible" is set to transform energy markets. Russia's share of EU natural gas imports has risen from 30% in 2001 to about 40% in 2021. This happened despite the IEA repeatedly raising concerns about Europe's growing reliance on Russian supplies and urging governments to diversify their supplies for the sake of energy security.
Russia was already distorting gas markets well before it invaded Ukraine in February, highlighting its willingness to use energy supplies as a political weapon. Since the invasion, its unilateral introduction of a ruble-payment system, the cutting off of gas supplies to multiple European countries, disruptions to transit and damage to infrastructure in Ukraine have all added to tensions in European energy markets.
Russia's shutting down of the Yamal-Europe pipeline creates additional supply security risks ahead of next winter.
Increased liquefied natural gas (LNG) imports, primarily from the United States, have so far shielded the European market from the full force of Russia's destabilising behaviour. But Europe's increased LNG imports have in turn affected global markets as cargoes once destined for Asia are increasingly lured to Europe. The EU's LNG imports during the eight months from October 2021 to May 2022 were up by 50% compared with the same period a year earlier. Without such a strong increase in LNG flows, the EU would be today in a much more vulnerable position with regard to Russian supplies and would not be able to refill its storage sites ahead of next winter.
The European gas market is most vulnerable during the heating season from early October to the end of March, which accounts for about 60% of annual consumption. Almost half of this gas is typically consumed by the residential and commercial sectors for space heating purposes, with demand strongly linked to variations in temperature.
In the current uncertain context, policy actions should focus on strengthening the resilience of EU energy markets – especially the gas market – ahead of the next heating season. The EU's target of filling its gas storage to 80% by 1 November, and several EU member countries setting higher mandatory fill levels, are steps in the right direction.
Russia's recent supply cuts via Nord Stream and through Ukraine, combined with an extended outage at the Freeport LNG plant in Texas, could reduce global gas supply by 35 billion cubic metres between mid-June and the end of 2022.
The tighter supply is already weighing on efforts to fill storage, making the EU's 80% target considerably harder to reach. This is a red alert for the EU for next winter – below average storage levels would leave the EU even more vulnerable later in the year when colder temperatures push demand higher. In response, stronger actions now need to be taken to reduce demand so storage levels are as high as possible ahead of winter.
Ensuring an orderly phase-out of Russian gas supplies
A growing number of EU member states have started taking action to cut their reliance on Russian gas supplies, and the IEA is working with the European Commission and 17 member states on many of these efforts. Ensuring that an accelerated phase-out of Russian gas is orderly requires a combination of supply- and demand-side measures.
The global LNG market provides the EU with the greatest near-term potential to diversify supplies, and in some countries this requires expanding import capacity. With careful investment planning, there are opportunities for these to facilitate future imports of hydrogen or ammonia.
But LNG imports alone cannot fully replace Russian gas supplies in the immediate term, especially since liquefaction capacity additions are set to slow down significantly in the next few years before recently planned investments come on stream after 2025.
Long lead times to build fossil fuel infrastructure, together with strong global demand for LNG and reduced Russian piped imports, point to tight market conditions lingering into the medium-term.
Quick actionable measures such as stopping wasteful leakage of methane from oil and gas production should be favoured. IEA analysis indicates that reducing methane leaks and gas flaring in countries with spare liquefaction or export pipeline capacity that currently export to the EU could save around 46 billion cubic metres of natural gas a year, equal to over 13% of the EU's total gas and LNG imports in 2021.
Nevertheless, the primary focus should be on the demand side, with policies to reduce and replace gas demand through energy efficiency measures, renewables-based electrification and the scaling up of low emissions gases. In the IEA's global pathway to reaching net zero emissions by 2050, rapid efficiency gains and an accelerated shift to clean energy totally eliminate the EU's need for Russian gas imports before 2030.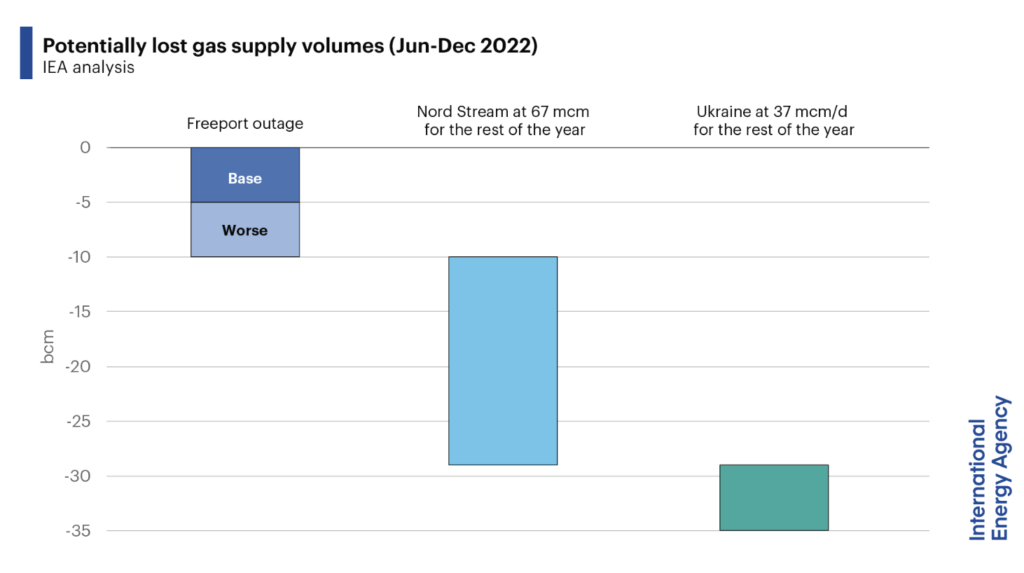 A new impetus for low emissions gas markets
EU efforts to phase out Russian fossil fuels pave the way for the creation of a resilient market for low emissions gases, including biomethane and low-carbon hydrogen. These gases are at the intersection of energy supply security and decarbonisation efforts. Besides helping to lower emissions, domestically produced low-carbon gases enhance market resilience and can reduce the reliance on fossil fuel imports significantly.
Accelerating their deployment requires stronger policy support to "pull" investments across the entire value chain.
Publicly funded programmes and state-backed risk-sharing mechanisms can help de-risk investments. Demand creation is a key instrument to stimulate investments in low-carbon hydrogen, including via quotas and public procurement rules.
Existing natural gas infrastructure can enable the deployment of low emissions gases by providing network access, reducing transport costs and ultimately facilitating their integration into the broader energy system.
This will all need to take place in the context of a European gas market contending with major uncertainties and changes. The immediate attention of policy makers should be on ensuring energy supply security ahead of next winter. Bringing an end to Europe's decades-long reliance on Russian fossil fuel imports in the coming years will require actions on both on the supply and demand sides – and a strong degree of unity and solidarity among EU countries. This must be done in a way that accelerates rather than impedes the transition to cleaner energy. The IEA is already working closely with the European Commission and EU member states to help make this a reality.