For Europe's manufacturing, a circular bio-economy should not be a problem to regulate but a transition to encourage
By
Jori Ringman
, Director General Cepi, the Confederation of European Paper Industries 
Bioeconomy and bio-based materials greatly facilitate the emergence of a circular economy. They typically address the limits of our current economic model and some of circularity's 'hard problems'. Other global players are already moving to make the best of it. So should the European Union.   One ubiquitous actor of both the bio- and circular economy is paper. An essential biomaterial, made of wood fibres, which manipulability has emboldened many manufacturers to progressively wander to new product markets. Some are now well established, from hygiene to packaging, or rapidly growing, such as textile. Other categories of products are ready to play a key role in the near future, for example biochemicals or batteries integrating lignin, a plant-based material into their components.
A real champion of both the bio and circular economy is paper, an essential bio-based material made of wood fibres. Those wood fibres, and by-streams of making paper, can do so much more, in so many product markets. Some are now well established, from hygiene to packaging, or rapidly growing, such as wood-based textiles.
Other categories of products are ready to play a key role, for example biochemicals for food and pharmaceuticals, or EV batteries integrating lignin also extracted from wood into their components.
Paper producers are also champions of industrial symbiosis, by-streams and residues from timber production are a major raw material source for papermaking. Our own residues are useful for green chemicals and lignin applications. And papermaking also integrates in many local communities as a provider of heating and water regeneration for many European homes.
What bioeconomy can do that others cannot
Paper is circular by nature. Made of renewable wood fibres, it is designed for circularity since decades already. As a packaging solution, it is already exceeding, many years ahead, the legal targets set in the Packaging and Packaging Waste Directive, and alone is recycled as much as all other packaging materials combined. This would not happen of course without the efforts of consumers, who are on the front-line of source-segregated paper collection, the basis for a high-quality circular-economy. For paper, the buy-in of citizen-consumers is already here.  
The recycling of paper – like the paper industry in general – is very much "made in Europe". Although in an open global market we cannot avoid third countries tapping into our paper collection, European paper recycling has been steadily growing over the past three decades, surpassing 50 million tonnes in 2021 for the first time. What is the incentive for this? While circularity often bumps into the issue of finding a business model, papermakers recycle because this is part of how the model works. We have consistently invested in collection, in recycling capacity and in developing world class recycling technology. And we pay an attractive market price to get the used papers back to our production – something that generates vital revenues for local authorities, waste management and traders.
Recycling and circularity for us is an economic necessity, rather than an element of regulatory compliance. This is a way of thinking that many other materials still have to fully integrate, but it is part of our sector's DNA. By zeroing-in on make products circular and sustainable by design, and pushing for better collection practices at local level, our sector aims to reach even higher recycling rates. The goal is to make all paper packaging in Europe recyclable by 2025 and reach a recycling rate of 90% by 2030.
But circular economy has limits. Any product can be 100% circular, but not all products, not the whole economy. Why? There are unavoidable losses of material in use, collection, sorting and reprocessing. And EU still wishes to grow and export as an economy. So you cannot collect from yesterday's consumption enough to meet the needs of tomorrow. The material pool of the circular economy needs to be constantly replenished and it should not be done with the fossil-intensive materials of the past if we want to achieve also our climate goals.  Bioeconomy and the circular economy are highly synergetic. Bioeconomy, even if materials are renewable, cannot be wasteful but needs circularity for being sustainable; Circular economy alone would not work and needs to be paired with a transition to a bioeconomy.
The circular bioeconomy is a global market
In September, United States President Joe Biden signed an Executive Act on 'Advancing Biotechnology and Biomanufacturing Innovation for a Sustainable, Safe, and Secure American Bioeconomy'. This piece of legislation is based on the premise that the global bioeconomy will reach USD 30 trillion by 2030. That is one third of the global economy.
Positioning the United States as a key player in this future economy will now be a goal supported 360 degrees across federal agencies, with appropriate funding being earmarked for research and innovation, and plans to develop suitable skills within the workforce. Standards will have to be fit for the bioeconomy, biomass access will be secured, and bio-based products will be given preference in public procurement. President Biden also sees the bioeconomy as an element of national security policy – a perspective the EU is only now waking up to see.
Yet in this global competition the European Union still has many key advantages, ones it should build on if it wants to reach its objectives in transitioning to both a circular economy and a bioeconomy. In the paper industry, we have a solid base of research and innovation, a well-educated workforce and with our 139 wood-based biorefineries a great industrial base. These already provide green and resilient solutions for a variety of sectors, from aviation to civil construction, food, automotive and batteries, cosmetics, personal hygiene, electronics, pharmaceuticals and medical applications, furniture, chemicals, and textile.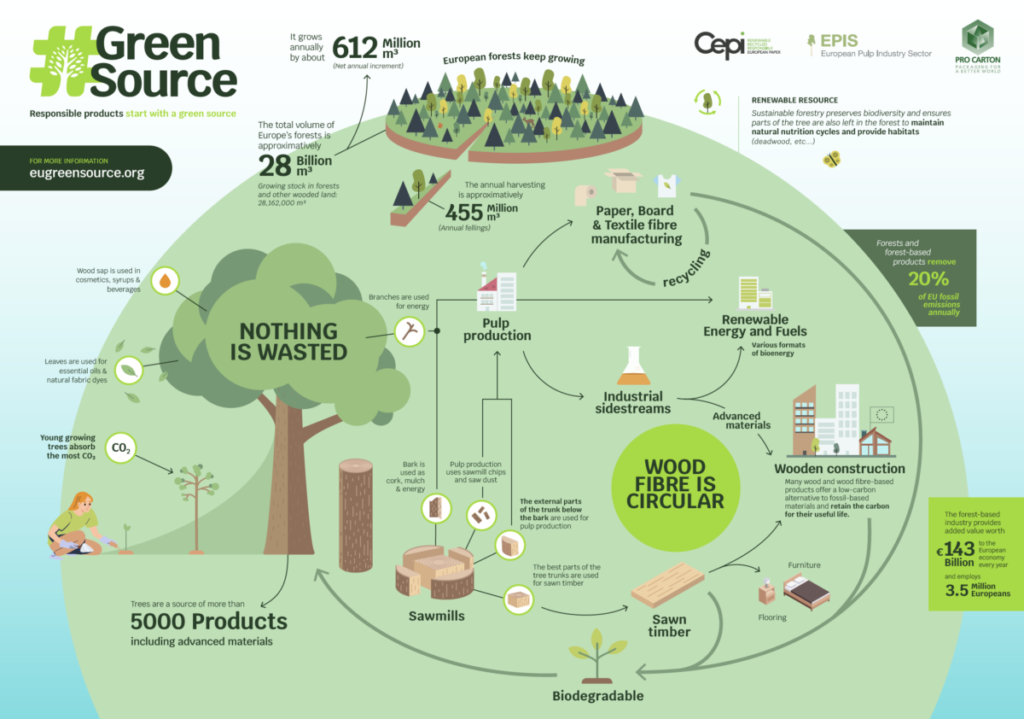 This is just the beginning of the circular bioeconomy of the future. We could make even further space for climate-neutral and circular wood-based products in our daily lives. We should also ensure that these products continue to be manufactured here in Europe, by a home-grown industry. To achieve this the EU Green Deal will now have to support their scale up; it was, after all, the EU's growth strategy.
Reaching climate neutrality will also require acting systemically, across value chains and sectors, which is why we founded a cross-industry alliance, 4evergreen. Its aim is to boost the contribution of fibre-based packaging in a circular and sustainable economy that minimises climate and environmental impact. The 100 members of 4evergreen represent some of the largest companies worldwide. This again shows Europe's potential for global leadership in the current circular and bioeconomy transition. The bioeconomy and the circular economy's futures are interlinked, and they could be written here, in the EU. We cannot miss this opportunity.