Borealis' drive to address global challenges responsibly
Borealis is a leading provider in the fields of polyolefin and base chemicals, delivering plastics solutions that address global challenges in the areas of climate, energy, food, health, water and sanitation and waste management. Through our dedication to responsibility and a strong collaboration throughout the value chain, Borealis is committed to foster true sustainability throughout the business.
Borealis takes responsible and fact-based decisions by applying the principles of the so-called 3Ps, which encompass People, the Planet and Profit.
This has enabled Borealis to include sustainability aspects in major policies and decision-making processes. For example, contribution to sustainability is one factor considered when the Group evaluates its innovation portfolio and investment projects. Having received a fourth Gold Corporate Social Responsibility Rating in 2019 by EcoVadis, an international provider of business sustainability ratings, Borealis is proud to be among the top one percent of all suppliers assessed in the category of chemicals and fertilizers.
Borealis' views on a unified EU classification system ('taxonomy')
It is essential to keep the perspective of sustainability as a holistic concept, keeping the balance between people, planet and profit. Furthermore, when setting criteria, it should not be overseen that the whole life cycle of manufactured products should be taken into account to ensure the promotion of the most sustainable option.
Developing 'taxonomy' for the EU is an opportunity to establish an approach that can be adopted globally.
Considering this, the "Taxonomy Proposal" should be designed to set clear criteria in financial products to reach sustainability goals.
Creating value through innovation
117 patents registered in 2018 shows how Borealis leads through innovation, partnering with educational and research institutions to encourage young minds to think critically and discover science. Supported by the principle of creating value through innovation, throughout the years Borealis has developed many products and solutions that have a positive impact on society.
The development of innovative products in the energy industry are a prime example of such a positive impact. The entire energy network relies on plastic materials, from power cable insulation to pipeline coating and natural gas supply. Borealis' advanced energy solutions play a key role in securing access to energy, by making power grids more robust, reliable and efficient and by allowing the transportation of renewable energy over long distances.
Borealis' solar products improve the operational reliability of photovoltaic (PV) modules, reduce processing complexity, and extend the lifetime of PV panels. Business collaborates with social responsibility to ensure access to energy in areas that are in need of a secure energy supply. Innovation in the energy sector has also led to the development of products that respond to customer worries, such as an ADCA free cable solution.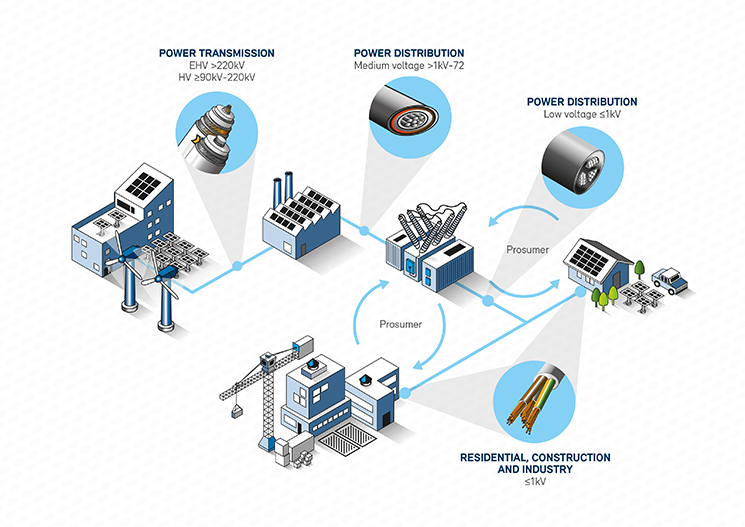 One of Borealis' sustainability focus areas is the impact on the environment. For us energy and climate go hand in hand and we work tirelessly to ensure the reduction of emissions and energy consumption in the production sites and throughout the lifespan of our products. Although plastics are energy intensive in their production process, energy is saved during their use and recovery.
The circular economy
Focus on circularity enabled Borealis to take big leaps in understanding and uniquely connect itself in various points along the value chain.
The circular economy is one of the pillars of Borealis' sustainability strategy,
and various actions have been taken to ensure that it becomes reality. 2 acquisitions took place to advance our strategy:
MTM Plastics in 2016 – a German plastics recycler, technology leader in difficult to recycle mixed post-consumer waste.
Ecoplast in 2018 – an Austrian high quality post-consumer flexible packaging recycler.
In both plants, further investments were made in the past couple of years to increase capacity and improving the quality of recycled plastic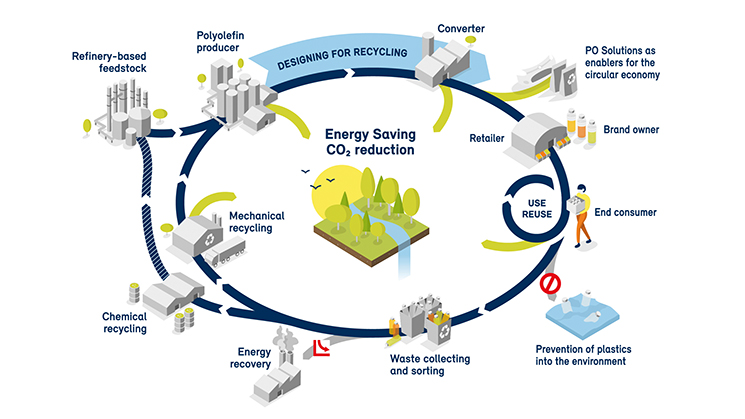 Investments addressing climate change
Borealis invests in several projects that aim to increase energy efficiency in operations and decrease CO2, including working on a long-term renewable energy strategy to expand the current renewable portfolio. Four wind turbines already supply the plant at Kallo, Belgium. In October 2018, Borealis announced an open-innovation project with QPinch, a start-up which has developed a technology that uses a chemical process to recover industrial waste heat. Together, the first commercial-scale heat recovery unit to employ this revolutionary technology will be built at an existing Borealis plant in Antwerp, Belgium.
Looking to the future, an R&D agreement has been signed with several other petrochemical companies to form the Cracker of the Future Consortium. This is a cooperation to jointly investigate how naphtha or gas steam crackers could be operated using renewable electricity instead of fossil fuels, to produce base chemicals while also significantly reducing carbon emissions.
All of these activities are complemented by the implementation of the international energy management standard ISO 50001, which will enable Borealis to cut over 360,000 metric tons of CO2 emissions annually.
"The drive towards circular economy is as a top priority for Borealis. Continuous innovation and investment in this field is a key step to attain our circular economy solution targets." Mark Tonkens, Borealis CFO