Renewable & CCU fuels: an alternative to gas dependency available here & now in Europe
Russia's military aggression against Ukraine has led Europe to rethink its energy policies from both a geopolitical and a climate perspective. In a context where the world's energy system has been massively disrupted, the European Union (EU) is looking for new pathways to reduce its reliance on fossil fuels imported from Russia as well as accelerating the transition towards renewable energy systems. But what about economic activities where direct electrification is not currently possible? This is where carbon capture and utilisation (CCU) comes into play, where captured CO2 combined with renewable hydrogen leads to renewable fuels that contribute to defossilising emissions and enable the uptake of clean energy across all sectors. 
Europe stands at the crossroads of the climate urgency and of a major geopolitical crisis: with rising temperatures caused by the emissions of greenhouse gas ('GHG') emissions and energy insecurity underscored by the Russian invasion of Ukraine, EU leaders need to address both issues at once and fast. 
Towards a renewable and low carbon European energy system
By adopting the EU Green Deal and giving it shape through its Fit-for-55 proposals, EU authorities have been making carbon neutrality a clear horizon for the continent.
The first step to take is clear: slashing CO2 emissions, as much as possible, wherever possible and whenever possible. It means moving away from fossil fuels like coal & oil.
Some consider natural gas as playing a transitional role in climate mitigation, but as the invasion of Ukraine has shown, relying on gas means relying on outside fossil resources and seeing the independency and ability for the EU to transition to clean energies diminished. This is why building a renewable energy system in Europe is more urgent than ever. 
The European Commission strongly reaffirmed this objective when publishing on 18 May its REPowerEU Plan, increasing targets to reach 45% (from 40% in its initial proposal) of renewable energy to be used in Europe by 2030. This new direction is the right one: direct electrification and use of renewable energy is one of the most efficient course of action we can take right now. 
Europe is absolutely right to put on track policies to scale-up renewables fast. But the story doesn't stop there. 
What can CCU fuels do?
Direct use of renewables is the way to go to defossilise our economy. But what about sectors that can't be electrified immediately, or at large scale? What about steel, cement, chemicals producers which represent 14% of emissions in Europe and can't electrify production? What about aviation (4% of EU's CO2 emissions) & shipping (4% as well) operators that won't be able to have their fleets running on renewable energy, at least in the current infrastructures and technologies? Should they turn to gas as an alternative? 
Our answer is clear: even if gas could play a marginal role in transitioning from coal and oil, it remains a fossil resource and our collective objective should be to move away from fossil resources altogether and avoid investing into yet another fossil dependency.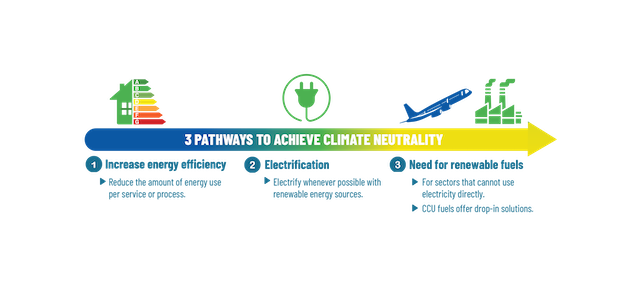 There is a clear alternative, and it is fuels made from carbon capture and utilisation (CCU).
CCU is a broad concept that includes all technological and industrial processes that capture CO2 from industrial emissions or directly from the air and convert it into a wide range of products that can replace fossil-based products, often with the use of renewable electricity. Through CCU, CO2 is becoming a solution of providing an alternative carbon feedstock and not anymore a problem.  
This process is also referred to as Power-to-X: it means converting renewable electricity into products or in other words storing electricity into products such as fuels and chemicals. It can be Power-to-Liquid (e.g. kerosene) or Power-to-Gas (e.g. methane).
Regardless of the end product made, Power-to-X is about producing drop-in solutions for hard-to-abate sectors by providing them with cleaner energy, for example CCU fuels.
Such CCU fuels (also known as e-fuels), are formally defined in EU legislation as RFNBOs, must provide at least 70% GHG emission savings compared to conventional fossil fuels and can help industry and transport reach carbon neutrality. 
By combining green hydrogen with CO2, we create fuels that are easier to transport and store, and that can bring cleaner energies to sectors that can't use directly renewable hydrogen or renewable power.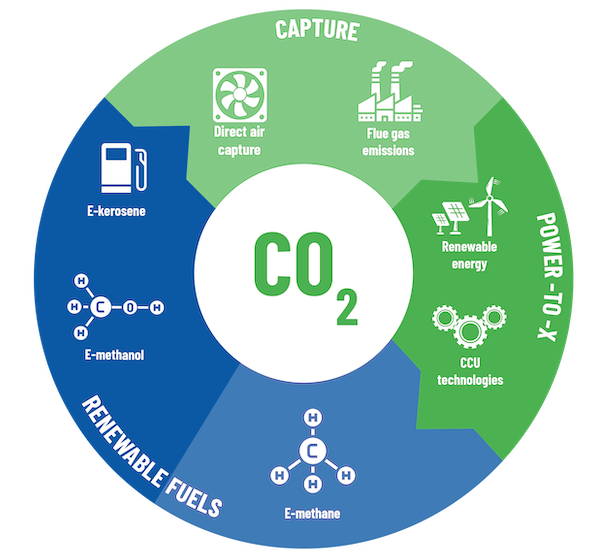 In practice, it means CCU fuels are playing a crucial role to decrease our dependency on fossil resources, including coal, oil & gas. Recent studies show that CCU technologies in their entirety could reduce net CO2 emissions with an estimated potential up to 8 Gt of CO2 utilized per year by 2050, which is equivalent to approximately 15% of current global CO2 emissions. The estimated potential for the scale-up of CO2 utilisation in e-fuels varies from 1 to 4.2 Gt CO2 yr−1.
In addition, CCU fuels can be used without requiring significant modification of existing production, distribution and use infrastructures. In other words, they can be produced, transported and used at large scales here and now.  When Europe is looking for alternatives of natural gas, it doesn't need to look any further other than supporting the production of e-methane, produced from CO2 and renewable hydrogen; the same molecule and a one-to-one substitute of natural gas.
What can Europe do to fast-track the uptake of CCU fuels?
EU institutions are in the midst of negotiations about new rules and quotas for the uptake of CCU fuels.
In the revision for the Renewable Energy Directive, the Commission proposes for renewable fuels to represent 2.6% of the total energy supplied to transport by 2030. In the REPowerEU Plan, the Commission goes even further and calls to increase that target to 5%. The revision also imposes for RFNBOs to represent 50% of the hydrogen used in industry by 2030, and REPowerEU calls to increase that target to 75%. This is a major signal sent to the entire EU industry and transport operators: CCU fuels are becoming a must in a the energy transition. 
The new proposals on air and maritime transport are introducing specific targets on GHG emissions reductions and even specific targets for CCU fuels: for aviation, synthetic aviation fuels will need to represent 2% of the total kerosene used in 2030, 15% in 2040 and 40% by 2050. It means the EU is creating a market for renewable fuels and it will need to develop fast. In shipping, the current proposal only imposes GHG emissions reductions, but we believe similar quotas should be put in place: having CCU fuels targets for shipping mirror the ones from aviation, e.g. 1% by 2025, 4% in 2030 and more would be highly beneficial to develop a market for clean fuels in the maritime sector. 
And finally, the Energy Taxation Directive will set up the rules for exemptions for CCU fuels for the years to come.
All the measures proposed go in the right direction and are giving clear signals for CCU fuels to be deployed in Europe. Some can be even strengthened, and this is what the REPowerEU Plan is clearly confirming. 
It is time for EU leaders to adopt those legislations and ensure renewable fuels quickly become a new normal, and help Europe regain its energy sovereignty while fast-tracking its climate transition.
1 Renewable Fuels of Non Biological Origin
2 Hepburn et al., 2019, doi.org/10.1038/s41586-019-1681-6 
3 Hepburn et al., 2019, Farfan et al., 2019, RAM et al.,2020