A competitive bioeconomy for a sustainable future
Can Europe move to a low-carbon economy in which new green jobs bring life back to regions and their environment? Is there a way to safely produce food, everyday products and energy locally, cutting long supply chains and reliance on imported ingredients?
For 10 years, European bioeconomy stakeholders have been working on these challenges with the support of CBE JU – Circular Bio-based Europe Joint Undertaking, a public-private partnership that funds projects deploying competitive bio-based industries in Europe. 
These industries produce sustainable bio-based ingredients, materials, and products from renewable resources, including agriculture, the food industry, wood sidestreams and waste, replacing the existing, non-renewable and often imported sources of raw materials for fuel, energy and manufacturing.
The goal of CBE JU is to help Europe become the world's first climate-neutral continent while increasing the sustainability and circularity of production and consumption systems. By combining public and private investment, CBE JU helps reducing the investment risk in cutting-edge technologies while adding the skills and knowledge necessary to fulfil market demands. Projects supported by CBE JU must show a strong positive impact on the environment and cannot compete with food production.
The partnership's €250 million investment in 14 first-of-their-kind commercial-scale biorefineries across Europe has already attracted €1.3 billion in private investment and created nearly 20,000 jobs. Many of these are new, highly skilled jobs in remote, rural, and coastal areas where the biomass is sourced. All together, these first biorefineries are expected to reduce 800 KT of CO2, equivalent to the amount captured by all Belgian forests in one year. What's more, each biorefinery's model can be replicated in other regions, bringing great economic and environmental benefits to the local communities. Let's take a look at some of these biorefineries:
Afterbiochem
Saint-Avold, France

CBE JU funding: €20 million

Coordinator: AFYREN NEOXY, France
The EU is the world's largest producer of sugar beet. The sector currently counts 140,000 farming and around 27,000 processing jobs. The AFTERBIOCHEM project is building the first all-in-one biorefinery for transforming the sugar industry's sidestreams – mainly pulp and non-food waste – into bio-based molecules of industrial interest. This will increase the economic and environmental sustainability of the sugar beet industry. The process will be flexible enough to adapt to alternative feedstocks in the future.
Circular biocarbon
Zaragoza, Spain & Sesto San Giovanni, Italy

CBE JU funding: €15 million

Coordinator: Urbaser, Spain
The organic fraction of municipal solid waste and sewage sludge is still not efficiently recovered in most municipalities. The CIRCULAR BIOCARBON flagship project is building two first-of-their-kind biorefineries converting waste into four value-added products and a range of other intermediate products. The project's goal is to support a new innovative circular urban waste treatment business, to reduce the organic waste that currently goes to landfill and to cut methane and carbon dioxide emissions.
Exilva
Sarpsborg, Norway

CBE JU funding: €27.4 million

Coordinator: Borregaard AS, Norway
Why do we need to use fossil-based materials to absorb water when trees give us the most advanced water absorption technology? Now, we know how to use nature's wisdom! The EXILVA project found a way to substitute fossil-based chemicals in personal care, coatings, and adhesives with advanced bio-based innovations. This enabled a significantly lower carbon footprint compared to existing technologies.
Farmÿng
Amiens, France

CBE JU funding: €19.6 million

Coordinator: ŸNSECT, France
Europe needs locally produced and sustainable plant-based proteins to reduce our dependence on protein imports. FARMŸNG produces sustainable proteins for animal feed with a lower environmental impact in the world's largest vertical worm farm. The project's appeal has propelled ŸNSECT, the French start-up leading the project, to raise more than €400 million and is planning to replicate the biorefinery in other locations.
First2run
Porto Torres, Italy

CBE JU funding: €17 million

Coordinator: Novamont SPA, Italy
In Europe, many lands are not suited for agriculture. Due to their topography or past use, marginal lands are often abandoned, whereas they could be used to produce renewable resources. The FIRST2RUN project involved local farmers to grow cardoons, an underutilised oil crop, in the Mediterranean landscape of Sardinia to make biodegradable and compostable bio-based products, such as bioplastics, cosmetics, and biolubricants,  that are now well established on the market.
Lignoflag
Podari, Romania

CBE JU funding: €24.7 million

Coordinator: Clariant Produkte GmbH, Germany
Straw is a common waste of agriculture. The LIGNOFLAG project found a new way to use it its first biorefinery in the world producing bio-based ethanol from non-food resources. The product's carbon footprint is much lower than fossil fuels, as the greenhouse gas savings could reach up to 95%, and it can also be applied as a fertiliser for the crops used in the process. 300 local farmers are supplying the straw to the biorefinery which allows them to generate an alternative income source. New plants are already in the planning in other regions.
PEFerence
Delfzijl, the Netherlands

CBE JU funding: €25 million

Coordinator: Avantium Chemicals BV, the Netherlands
Europe is looking at ways to cut the alarming plastic pollution. The PEFerence project has built the first industrial-scale, cost-effective biorefinery producing FDCA, a bio-based chemical, to produce high-value products. The goal is to replace a significant share of fossil-based plastics with 100% bio-based polyesters. These can compete with traditional packaging products in price and performance when produced at scale. The resulting bio-based material is sustainable and completely recyclable.
PLENITUDE
Sas van Gent, the Netherlands

CBE JU funding: €17 million

Coordinator: 3F BIO Ltd, United Kingdom
The European Union is by far the biggest importer of food worldwide. At the same time, there is an increased need for sustainable plant-based proteins. The PLENITUDE project has started the production of affordable plant-based proteins for human consumption. Their process reduces substantial amounts of CO2 per year and consumes significantly less water compared to beef farming while using waste from agriculture as the main resource.
ReSolute
Saint-Avold, France

CBE JU funding: €11.6 million

Coordinator: Circa Group AS, Norway
The goal of the ReSolute project is to provide a biodegradable, harmless, and bio-based solvent alternatives to the fossil-based chemicals currently in use, all while using waste from pulp and paper industries as a renewable raw material. The resulting bio-based solvent produced in a repurposed old petrochemical site in France will have many applications, like pharmaceuticals, coatings, adhesives and electronics. This way, the European industry can employ solvents which are safer for human health and the environment in many cutting-edge industries like microchip production.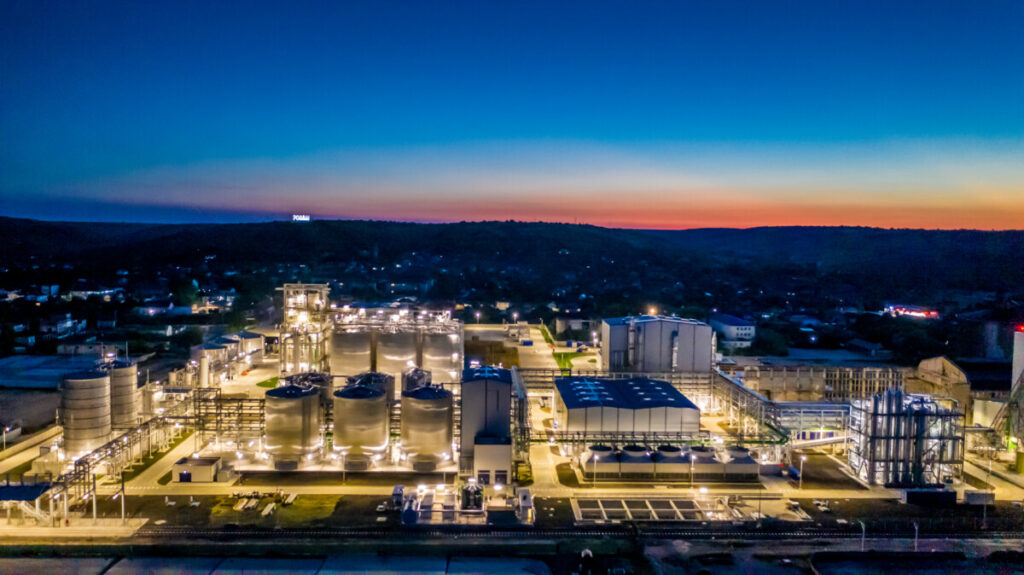 Scale
Baillargues, France

CBE JU funding: €14.3 million

Coordinator: Microphyt, France
What if we could grow renewable resources in very reduced space to free soil for forestry and agriculture? What if we could even capture CO2 from the atmosphere to feed this resource? The SCALE project led by a French small business is building the world's first fully integrated microalgae biorefinery to produce natural active ingredients of high nutritional value for the food, food supplements, feed, and cosmetics sectors.
Sweetwoods
Imavere, Estonia

CBE JU funding: €21 million

Coordinator: Fibenol OU, Estonia
Lubricants, adhesives, and plastics are widely used materials, but they are made of fossil-based raw materials, contributing to global warming and pollution. SWEETWOODS is building a first-of-its-kind, highly efficient, industrial biorefinery with a reduced environmental impact to obtain high-value compounds using hardwood waste as a raw material. The project helps create a new industry and innovation hub in Estonia focused on forestry-based chemicals and materials.
Viobond
Riga, Latvia

CBE JU funding: €15.9 million

Coordinator: Latvijas Finieris A/S, Latvia
Wood panels use glues whose components – phenol and formaldehyde – may pose risks to human health. By transforming hardwood residues, this project demonstrates the feasibility of an effective and efficient business model for lignin transformation into harmless and sustainable bio-based resins for wood panels and construction materials. The VIOBOND project can be replicated elsewhere in Europe and has high market potential.