Hydrogen Valleys Driving Growth and Jobs
By
Bart Biebuyck
, Executive director of the Fuel Cells and Hydrogen Joint Undertaking (FCH JU)
Hydrogen Valleys have recently become a global phenomenon, with integrated, complex projects emerging across the world in a drive to accelerate the development of the hydrogen-driven economy.
In her SOTEU1 address of 16 September 2020, European Commission President von der Leyen pointed to the role of Next Generation EU to help deliver hydrogen valleys "to bring life to rural areas". More recently, in a speech to the Hydrogen Council, she mentioned their role in creating a "true European clean hydrogen market" as they will allow Europe to produce hydrogen where it is most economical and build the infrastructure needed to distribute it, while creating growth and jobs. Indeed, this is exactly what Hydrogen Valleys and Hydrogen Islands are: "Places where clean hydrogen creates growth and jobs in full respect of the environment"2.
It does not come as surprise then that more than 1000 participants from across the world gathered on 19 January for the online launch of the Hydrogen Valley Platform (H2V.eu). This platform was developed by the FCH JU, on behalf of the European Commission, under the umbrella of Mission Innovation "Renewable and Clean Hydrogen" Innovation Challenge.
The platform presents and connects the existing regional clusters, with 32 hydrogen valleys from 18 countries already featured on the platform.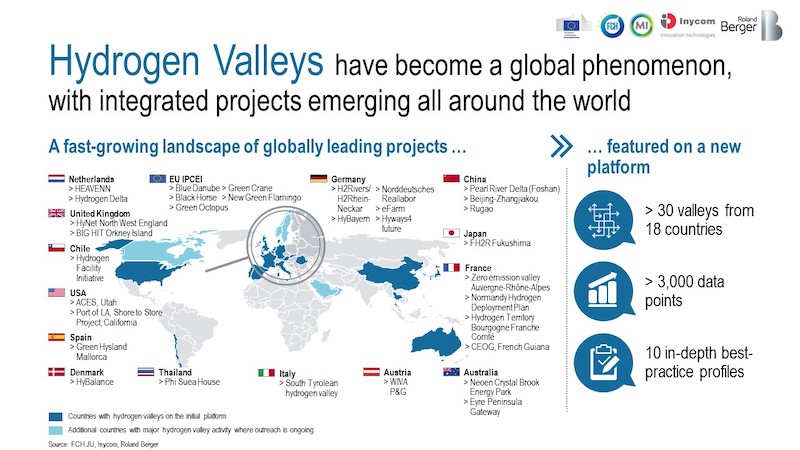 The FCH JU coined the concept of "hydrogen valley" as a way to designate a geographical area – a city, a region, an island or an industrial cluster – where several hydrogen applications come together into an integrated hydrogen ecosystem that consumes a significant amount of hydrogen, improving the economics behind the project.
It covers the entire hydrogen value chain: production, storage, distribution and final use. As such, "hydrogen valleys" offer a pathway for scaling up and making this technology a viable solution.
This comes as the result of a sustained process, which started in 2017 with our Regions and Cities Initiative, and continues with the Project Development Assistance through which we are supporting 11 local authorities from across the European Union to develop their concepts for regional hydrogen projects into detailed work plans. Hydrogen valleys are also the topic of a Smart Specialisation Platform3 for industrial modernisation – which aims to support EU regions committed to generate a pipeline of industrial investment projects following a bottom-up approach.
The H2V platform is undoubtedly an important initiative to take the hydrogen valley concept to the next level – and see how is represented at a global level. It is a very useful tool for project developers and not only. Policy makers, local and regional authorities and many others can benefit from its findings.
The platform will increases the visibility of Hydrogen Valleys in the industry, among policy makers and funding entities and boost the uptake of the hydrogen economy.
It is a great example to show how international collaboration on hydrogen can boost the hydrogen economy, and we are happy to see so many countries involved and on the track for developing such projects.
So far, the global analysis of hydrogen valleys we undertook for the launch of the platform shows clear signs of a maturing market, but also highlights that the developers face common challenges, especially concerning business cases and regulation.
In line with the EU Hydrogen Strategy, the FCH JU has supported and will continue to support the development of hydrogen valleys in Europe both in the mainland and in the islands. Last year, we awarded 10 million EUR for the project Green Hysland, which aims to create a 'green hydrogen ecosystem' in the Balearic Islands.
Green Hysland will generate, distribute and use at least 300 tonnes of renewable hydrogen locally per year, produced from solar energy on the island of Mallorca. Mallorca is ideally positioned to develop the first hydrogen hub in Southern Europe, while becoming Europe's first example of an integrated island economy based on green hydrogen. The project will also include the development of business models for replicating the project to other EU islands and beyond. As the project progresses, it will develop local expertise and new employment opportunities in the sustainable energy sector on the Balearic island, which will come as a breath of fresh air to the hard-hit economy of Mallorca.
Other previous initiatives supported by the FCH JU are the projects Heavenn (in 2019) and BigHit (2018). HEAVENN is a large-scale demo project brings together production, distribution, storage and local end-use of hydrogen into a fully-integrated and functioning hydrogen valley in the Northern Netherlands, with a total initial investment of 88 M EUR.
At a smaller scale, BIG HIT created a hydrogen territory in the Orkney Islands in Scotland, benefiting communities and businesses who want to use more locally generated renewable energy.
I strongly believe that hydrogen valleys will play an integral part in building further momentum in the market and driving economic recovery and growth. I would like to invite all those interested to have a look at the platform and to get involved.
1 State of the Union Speech, 16 September 2020
2 Speech by President von der Leyen to the Hydrogen Council, 19 January 2021
3 https://s3platform.jrc.ec.europa.eu/hydrogen-valleys