A pathway for green investment in transport
By
Kris Peeters
, EIB Vice-President responsible for transport operations
Our planet is at a crossroads. We must act immediately and swiftly if we want to ensure a sustainable transition to a net-zero emissions economy and avoid catastrophic tipping points in our climate system. We already need rapid change now, but if we wait longer, we run the risk of having to make even more abrupt changes and of taking drastic action, which would be more disruptive for our economies and our financial markets. Even worse, we may fail altogether and face existential consequences for the human race and many forms of life on our planet.
The Intergovernmental Panel on Climate Change (IPCC) has clearly indicated that the current decade until 2030 is our last window of opportunity to avert disastrous climate change. This is also true for the protection of biodiversity and ecosystems. The investments we make over the next ten years will change the face of our economies and our societies. They must.
CO2 emissions from aviation and shipping have been rising rapidly over the past two decades, along with those from motor vehicles, which account for about 75% of transport demand and emissions today.
Since 1990, transport emissions in the European Union have grown by 33% overall, even as other sectors taken together have reduced emissions by 32%.
During the first phase of the coronavirus pandemic, we saw passenger and commercial vehicle travel grind to a halt and aviation, rail and to a lesser extent maritime activity plummet. This reduced greenhouse gas emissions, improved air quality and gave a glimpse of what a cleaner world could look like. However, many transport sectors have now returned to pre-COVID emissions levels or reached even greater heights.
To achieve a permanent reduction in CO2 and other polluting emissions will thus require sustained policy actions to reduce travel, a move to cleaner modes of transport and enhanced efficiency and electrification across the board. Vital transport technologies and alternative fuels — like advanced biofuels and sustainable hydrogen based e-fuels — remain at the demonstration and prototype stages and their development needs to be accelerated. Priorities also include anticipating and managing demand by shaping new mobility developments in cities and by formulating long-term technology and policy visions for heavy-duty subsectors such as road freight, shipping and aviation.
There is also an important economic dimension to the challenge that lies ahead. Europe's highly competitive automotive and transport industry plays a key role in driving economic growth and employment.
If Europe falls behind in developing and adopting sustainable technologies within the next decade, it will pay a high price.
A pathway to green investment
Our latest EU-wide business survey, the 2021 EIB Group Survey on Investment and Investment Finance, shows that uncertainty about the regulatory environment and taxation are seen as the main barriers to climate-related investment by businesses from all sectors. The clear message from those surveyed is that for them to make the investments we need them to make, they need a clear decarbonisation pathway, advice on financial assistance and technical support.
That is why the European Union has been at the forefront of international efforts to fight climate change through close cooperation with international partners. It is showing leadership through its ambitious climate action policies.
A clear, EU-wide pathway for transport is being shaped with the launch of the European Commission's Sustainable and Smart Mobility Strategy, which sets clear targets and milestones for all transport sectors.
Moreover, the green taxonomy is taking shape and CO2 pricing and emission standards are being prepared. The post-2021 light-duty vehicle CO2 standards, for example, are currently being reviewed by the European Commission, and a review of heavy-duty standards is planned for 2022.
The European Union and national governments clearly have a crucial role to play in minimising obstacles to climate investment: by minimising regulatory uncertainty, communicating climate policy goals and developing a comprehensive climate action framework.
However, while much remains to be done by policymakers and the public sector, firms must be aware that the path to combating climate change only leads in one direction: net-zero emissions by 2050.
In June 2021, the European Union adopted the European Climate Law, which aims to slash its net greenhouse gas emissions to zero by 2050. The law sets an intermediate target of reducing these emissions by at least 55%, compared to 1990 levels, by 2030.
Overall, our research shows that most firms are not yet taking into account the foreseeable physical and transition risks associated with climate change. Firms may believe that climate change will impact their country or region to a lesser extent than more distant places. In that case, they underestimate the indirect risks to which they are exposed through their global supply chains and markets. Their failure to take such risks into consideration reduces their perceived incentives to invest in adaptation and mitigation measures. It also puts their own long-run prosperity at risk and leaves the European Union's climate objectives in jeopardy.
The climate emergency leaves firms with two pathways: plan today and gain a competitive edge, or risk losing ground to more forward-thinking competitors. Prudent steps taken to address climate change now can improve a company's competitive position relative to its national or international peers. With more climate policies coming from national governments and increasing scientific clarity, now is the time for businesses to design corporate strategies that address climate change.
Supporting businesses on their green journey
As the EU climate bank, the EIB Group is committed to supporting the transition towards a low-carbon and climate-resilient future. Since 2012, the EIB has provided €197 billion of finance supporting over €670 billion of investment in projects that protect the environment, reduce emissions and help countries adapt to the impacts of climate change. In regard to the transport sector, following a public consultation with companies, the public sector and civil society, we will adapt our transport lending priorities. But more than that, we also help climate projects get the technical advice and investment support they need to make a difference.
Under the PATH framework, launched this year, the EIB has begun working with companies that are willing to align over time with the goals of the Paris Agreement — namely to transition towards a low-carbon and climate-resilient economy. The EIB Group is the first multilateral development bank to address the wider activities of clients and help them to decarbonise their businesses or manage physical climate risks in this way. It will continue to share this experience with other institutions.
Access to finance
Access to finance is not always easy for innovative companies, including those investing in the new technologies required to effect the green transition. The EIB has therefore developed climate and environmental finance instruments to address market failures and support investments that are economically viable, but do not receive sufficient commercial finance due to perceived risks.
We have been successfully bringing nascent technologies through technical advice and investments to commercially competitive stages, such as offshore wind farms, or more recently our support for home-grown European battery production.
The EIB Group also plays an active role in crowding-in other investors: the Bank typically only finances up to 50% of total eligible project costs, meaning that we are working alongside other partners to finance projects. Often, the EIB's robust appraisal process for its investments is recognised by these partners and is what gives them the confidence to participate in the investment.
The EIB is a strong partner for the transport sector's green transition.
The EIB has been steadily increasing its share of transport investments related to climate mitigation over the past few years. Between 2016 and 2020, the EIB signed finance contracts with a value of €56.5 billion in support of transport, of which €36.7 billion was related to climate action. This represents 65% of total EIB transport lending. Last year alone, we lent over €8.1 billion towards climate action in the transport sector.
To us it is clear that meeting the long-term objectives of the European Green Deal will require sustained long-term investment in green innovation. In particular, technologies that provide a green pathway in aviation, maritime and heavy-duty transport are often still in their pilot phase. The EIB engages with the front-runners to see how it can support them both through existing finance products and through developing specific products such as the Future Mobility initiative, which is supported by the European Commission. This instrument enabled us to support Cargobeamer, which is deploying a technology that makes it possible to smoothly interconnect rail and road transport. It involves specially designed pallets that can be carried on a road trailer; the pallets are fitted on top of flatcars but can slide sideways to allow trucks to drive on and off smoothly at intermodal terminals.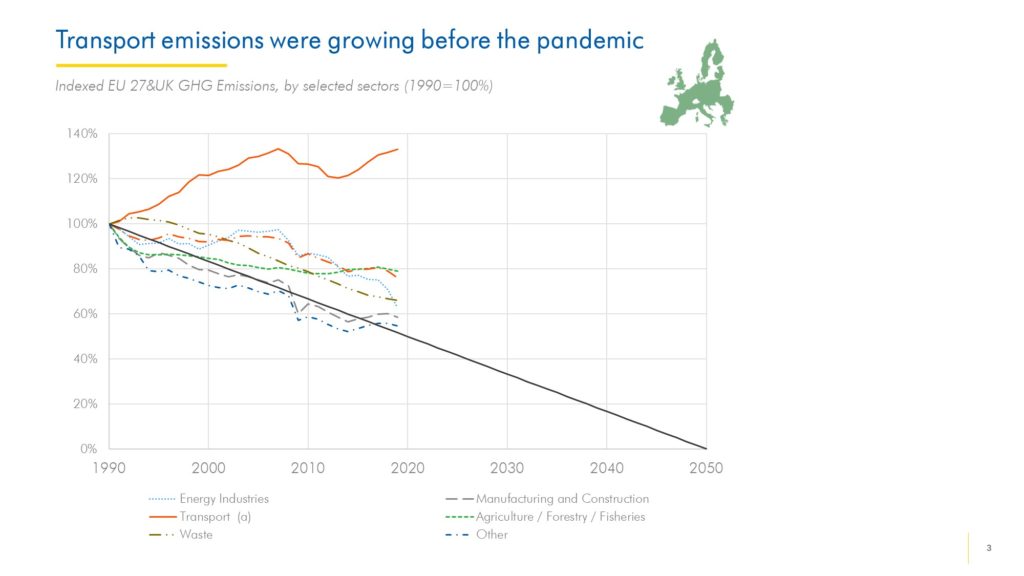 Markets can change more quickly than businesses expect
Markets move quickly, and companies can and should act now.
The share of green investment on the capital markets is skyrocketing. The EU taxonomy will improve the climate-related information that investors, lenders, insurers and other stakeholders have about firms. This will increasingly guide them in their investment decisions.
Institutions such as the EIB Group can support the transport sector's transition. But the fact remains that there is not enough public money in the world to finance the transition to a low-carbon future. Ultimately, the private sector must take the lead. Major industrial players, entrepreneurs and grassroots organisations must adopt a more agile, daring and even revolutionary approach. The EIB will be there every step of the way, offering guidance and sharing the risk.