What type of logistics is needed to have fresh products and development on a metropolitan, regional and European scale?
T
he Euralimentaire site of excellence was created from the former Lille
National Interest Market, now the Lille
Wholesale Market. It has a vocation to coordinate the city's actions in terms of food and urban logistics, as well as providing a welcome and support for foodtech start-ups.
Euralimentaire's strategic reference standard is the European Green Deal. It is important to note that 44% of the land within Lille Metropole is agricultural.
Lille Metropole is involved in this dynamic through its commitment to a local

food strategy, with its Regional Food Project

(

Projet Alimentaire Territorial

– PAT), itself the result of the Law for the Future of Agriculture, Food and Forests.
As one of the principal focuses of the
PAT is to address "better eating" and "better production" and to move towards a more
sustainable food system, Lille Metropole
drew up its own Metropolitan Food and Agriculture
 Strategy in 2016. The approach is now
being continued with the introduction of the
Regional Food Project (PAT- Whose ambition is food well-being for all). This system offers
a new, co-building approach to providing a better food system for city residents, bringing together all the stakeholders in the food system (producers, wholesalers, processors, retailers, restaurateurs, local authorities,
consumers). The three main priorities of the PAT are: social accessibility; nutrition, health
and economy; the regional food identity (the different facets of local specialities).
This public action has strengthened local, short supply chains. The site of excellence is therefore pursuing three areas of development: Organisation of the sector; Welcome and development of start-ups; Urban logistics.
On the question of logistics alone, there are many challenges in terms of inter-regional and intra-regional flows.
The site of excellence is located in the
future Low Emissions Zone (ZFE), intended
to protect residents in the most polluted, densely populated areas.
Already adopted by 231 cities or European metropolises, it

aims to reduce road traffic emissions, one of

the main sources of urban pollution. One of its principles is to encourage the circulation of cleaner vehicles.
The most polluting and
"unclassified" vehicles will not be allowed to travel in the ZFE at certain times of the day.
This represents a real challenge for goods transport in general and fresh produce in par
ticular. In view of these findings, discussions
were held in 2019 to set up a professional Marketplace known as E-fresh. The aim is
to support businesses that face traffic congestion o
n and parking difficulties in urban areas.
This platform will considerably develop the
operations of the wholesale market, bringing it closer to a lean manufacturing model and accentuating the hyper-freshness of the produce, from farm to fork.
Covid-19 has in fact both disrupted and strengthened this logistics axis. The pandemic has led consumers to buy in local shops rather than large retail outlets, increased the need for clean deliveries and generated a growing call for local, seasonal produce.
What does the concept of "incubator" bring to a project like Euralimentaire?
An innovation incubator-accelerator in the food sector of the future
Launched in 2017, the purpose of the Euralimentaire incubator is to boost the creation of innovative businesses and jobs in the fresh food market. Its teams support project leaders and start-ups who want to develop a product or service in the foodtech sector (distribution,
manufacturing and/or coaching/media).
The incubator is an integral part of a dynamic regional ecosystem and a dense industrial network of 1,400 companies with 36,000 employees, making the Hauts-de-

France region the number one regional agri

business cluster.
Over the last three years, the incubator
has supported 40 project leaders in different
foodtech sub-sectors (new products, processes, services and applications in the food
sector of the future). Over 130 jobs have been
created and four fundraising rounds have been carried out, raising over €5 million.
The types of projects supported by the Euralimentaire incubator are divided into three priority sectors: foodscience, food service and coaching.
The incubator support services
Designed for innovative project leaders in agribusiness and foodtech, the incubator
offers support services covering every stage
of the project. A team of experts provides all
the necessary services that will structure the project and optimise its chances of success.
a. FoodStart Programme
A three- month support programme known as
"FoodStart" will be launched in 2020.
This programme is designed for project
leaders whose profile is a step behind those benefiting from the incubation
programme.
b. Incubation Programme
Tailor-made support to start your business over
24 months, up to the first fundraising
round or proof of business concept. The expert team is present throughout the project, from researching a relevant business model.
c. Acceleration Programme
For young
companies, Euralimentaire has put in place an acceleration programme to help them develop and access the market, optimising their chances of success.
d. Suitable premises
The Euralimentaire site of excellence, dedicated to fresh, local produce and its logistics,
provides hosting infrastructure in the heart of the Lomme (Lille) National Interest Market (MIN), the largest French wholesale market after Rungis (fruit, vegetables, flowers). Over a surface area of 1,000 m2, the structure provides:
›
12 x 40 m2 preparation units with water
supply and a Wi-Fi connection;
›
Shared technical premises (cold room,
vegetable processing area, goods loading
and unloading docks, etc.);
›
Co-working spaces or private offices;
›
A shared kitchen.
e. A broad programme of events
Euralimentaire organises six events per year, with the objective of promoting meetings between stakeholders and partners in the sector. The structure has teamed up
with Clubster NSL to offer its project leaders
information workshops and networking focused on foodtech and nutrition issues In 2019, these workshops had a total of over 500 participants.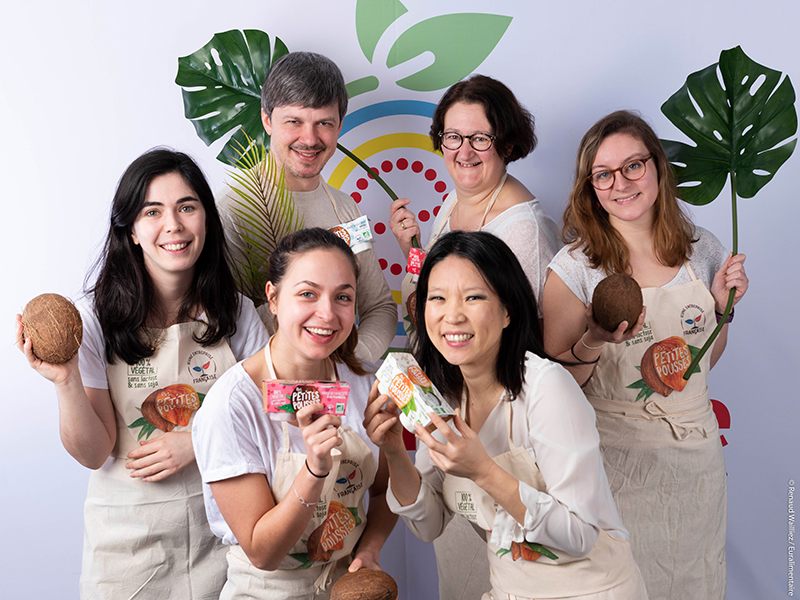 Incubator testimonials
"We appreciate having the facility to 'pick
and choose' from the different units,
services and knowledge we need to make progress in our development, thanks to the Euralimentaire team and its links with
Clubster NSL and Eurasanté.
"The HR unit for example has really helped us with recruiting several members of the team, preparing the roadmap and integrating these employees within the

company." Jérémie Guilbert, Founder, Mes

Voisins producteurs.
"The Euralimentaire team has helped
us examine patent filing and steered us
towards key resources and skills to secure our innovations. This support has also enabled us to obtain essential funding to
file our first patents." Thomas Dormigny.
"After 8 months of incubation at Euralimentaire, we have been able to appreciate the many qualities in the support delivered by the team: the welcome and the variety of discussions with other project leaders at seminars and training courses, networking with good contacts such as technical centres, suppliers, industrial companies, and support with administrative and legal
processes." Alvaro Madrazo, Founder, ZANT.
"The support from Euralimentaire was
crucial for my first fundraising round.
The team, who are always available and experts in this subject, gave me the keys
to understanding the specific world of
innovation funding. This led to an introduction to a network of investors with tailor-made meetings and support in
some very technical aspects." Stéphanie
Rome.