The European Innovation Council (EIC) strives for clean technology and a cleaner, healthier world
By
Jean-David-Malo
, Director of the European Innovation Council and the SME Executive Agency 
With a record budget of EUR 10 billion for the period 2021-2027, the EIC is the EU flagship innovation programme of Horizon Europe, to identify, stimulate, develop and scale up breakthrough technologies and game-changing innovations. Supporting all stages of innovation in a bottom-up ("Open") but also in a top-down ("Challenges") approach, from research and development on the scientific underpinnings of breakthrough technologies, from validation and demonstration of breakthrough technologies and innovations to meet real world needs, to the development and scaling up of deep tech start-ups and SMEs, the EIC has the ambition, under the leadership of Commissioner GABRIEL, to become the "EU fabric of unicorns" with the aims notably (1) to contribute to the solutions to the various challenges we are confronted with (e.g. climate change, digital transition, energy crisis, health issues, food security, geopolitical instability, transformation of labour conditions, information/data security), (2) to participate to the EU economic and technological sovereignty in strategic areas and (3) to make Europe a leader in the new wave of deep tech innovation and start-ups in the ongoing global tech race. As such it contributes to the ambitious action plan set within the New European Innovation Agenda.
In this frame it is without surprise that the EIC is currently providing around 30% of its funding in clean tech: it is indeed essential if we consider that the International Energy Agency predicts in its Net Zero by 2050 Roadmap, that the path to net zero emissions from 2030 and by 2050 will rely on technologies and innovations not currently available, especially in strategic sectors such as carbon capture and utilisation. 
By doing this it contributes to the objective to strengthen Europe's net-zero energy technologies manufacturing and investment ecosystem outlined in the Commission Communication on the Green Deal Industrial Plan, recently reinforced by the Net-Zero Industry Act Commission proposal.
An agile instrument for innovators from excellent early research to scaling-up of clean-tech innovation/start-ups 
The EIC supports clean technologies, at different technological maturity levels, from early research to start-up and scale up, providing grants and direct equity to de-risk investments and facilitate crowding in of private investors. Implemented via annual calls for proposals, this support is mainly provided through 3 main schemes:
The EIC Pathfinder supports advanced research (grants up to EUR 3-4 million) implemented by consortia to develop the scientific basis to underpin breakthrough technologies. It provides support for the earliest stages of scientific, technological or deep-tech research and development. Pathfinder projects aim to build on new, cutting-edge directions in science and technology to disrupt a field and a market or create new opportunities by realising innovative technological solutions;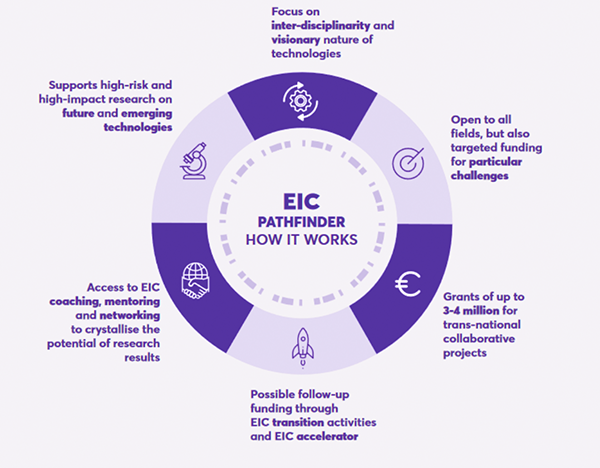 The EIC Transition funds innovation activities implemented by small consortia or single entity that go beyond the experimental proof of principle in laboratory (grants up to EUR 2.5 million). It supports both the maturation and validation of novel technology from the lab to the relevant application environments as well as explorations and development of a sustainable business case and business model towards commercialization;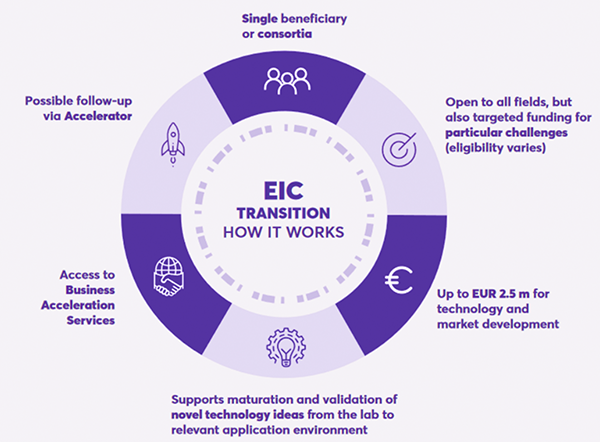 The EIC Accelerator supports single companies (principally SMEs, including start-ups) to scale up high-impact innovations with the potential to create new markets or disrupt existing ones. It focuses on deep tech where significant funding is needed over a long timeframe before returns can be generated ('patient capital'), by providing a unique combination of a grant up to EUR 2.5 million and a direct equity support up to EUR 15 million thanks to its EIC Fund.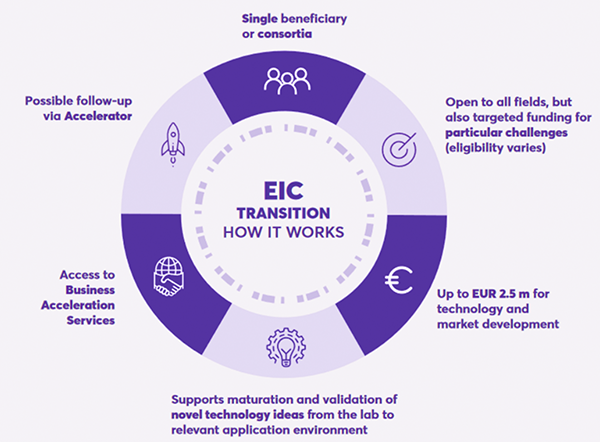 More than financial support
Beyond the financial support provided under its main schemes, the EIC offers its beneficiaries, through its Business Acceleration Services, a broad range of services, exposing them to business opportunities, investors, corporates, public/private procurers, and bringing them to international clean tech events (i.a. Arpa-e Summit, CES (USA), Ecomondo (Italy), Middle East Energy (Dubai)).
Moreover, EIC Programme Managers support beneficiaries with a pro-active portfolio approach, where even more ambitious techno-scientific goals are achieved, by grouping projects in thematic portfolios, comparing methodologies and results, proposing common actions and roadmaps to effectively translate research into innovation, and exploring synergies between projects to ensure maximum potential is achieved. 
Last, but not least, the EIC is developing cooperation with key actors of the EU clean tech innovation ecosystem for the benefit of EU innovators (e.g. MoU with EIT, Letters of intent with CHJU and Cleantech Europe).
Huge opportunities offered in 2023: join us!
To date, the EIC areas of intervention in clean tech are many, ranging from clean energy technologies to energy efficiency in final consumption, i.e. energy supplied directly to the consumer, transport, infrastructures for the net zero transition, agriculture and food, climate adaptation and mitigation, blue economy, environment and circularity in processes and materials. But more is coming in 2023: beyond our open calls, challenges have opened in topics such as clean cooling, diminishing embedded carbon in construction, sustainable electronics, resilient agriculture and environmental intelligence. 
More information can be found in the EIC 2023 Work Programme.
Let's invest in the cleantech companies of the future!