Sustainability – now is the time to change the world
Moving to a greener and more sustainable society is a must as the challenges of global warming, environmental degradation and resource depletion become increasingly pressing.
Sustainability is in the DNA of the European Investment Bank. It shapes our activities and investments. We appraise and monitor all projects we finance based on sustainability. We review environmental, social and governance aspects of each investment.
For many years, the EU Bank has been a leader in finding solutions to the world's climate and environmental challenges.
We are one of the largest multilateral financiers for climate action. Since 2012, we have provided €150 billion for the climate and environment, supporting €550 billion of investments. To support the European Union's leadership in the fight against climate change, our work is increasing. In 2015, in support of the Paris agreement, we committed to investing $100 billion in climate projects over 5 years, and we are on track to meet this goal.
A big transformation
Helping the world transition to a sustainable, carbon-neutral society is a complex job that requires a big transformation for our economies and lifestyles. We need to make massive investments over the next 10 to 15 years. Achieving carbon neutrality and meeting the Paris agreement will require the European Union to invest an additional €175 billion to €290 billion each year.
To meet this challenge, more public and private financing must be directed to sustainable projects. The financial system and sustainability will need to be closely connected. The EU is moving quickly in this direction with its Action Plan on Financing Sustainable Growth.
A key ingredient of this plan is the EU's sustainability classifications. Classifying sustainable economic activities will provide a common understanding of sustainable investments. The EIB helped develop this sustainability taxonomy. A first draft of these classifications on climate mitigation and adaptation was presented in June and is now under consultation.
Capital markets are the key
To raise the amount of sustainable financing needed to protect the climate, we need to take advantage of the capital markets. The market for green, social and sustainability bonds is growing fast, but it is still a small part of the whole bond market. The EIB pioneered the green bond market, so we understand the potential of this unique investment tool. The Bank launched the world's first green bond in 2007 and has now issued close to €26 billion in green bonds. This makes us the largest multinational green bond issuer.
In 2018, we issued our first sustainability bond to support projects that go beyond the climate. We also have contributed to transparency by helping design the proposed EU Green Bond Standard. Better transparency and guidelines are important steps towards a more robust green bond market in Europe.
Sustainability challenges are important to the whole world and require collective action. As with the wider climate goals, progress on sustainable finance in Europe should be linked with other jurisdictions, and various initiatives should be better coordinated.
In this sense, the EU's International Platform on Sustainable Finance will be a major step to encourage more dialogue beyond European borders.
The EIB will participate in this initiative that is expected to be launched at the World Bank Group/IMF Annual Meetings in October. The Bank is also participating in other international initiatives aimed at sharing principles and knowledge that will help the world transition to a sustainable economy, such as the Central Banks and Supervisors Network on Greening the Financial System (NGFS) or the Coalition of Finance Ministers for Climate Action.
Innovative finance to save the planet
As a public bank whose investments are designed to attract more private investment, we are showing the world how to mobilise other financiers to invest in sustainability. In the last 10 years, the EU Bank has also pioneered the development of blended finance instruments that help the market increase the level of private finance for sustainable activities. Some of these instruments blend public money from the European Commission and individual EU countries with financing from capital markets investors and other international finance institutions.
We have also set up multiple financial instruments and innovative funds that focus on climate and the environment, such as our Global Energy Efficiency and Renewable Energy Fund and our Natural Capital Financing Facility.
As climate dangers rise, it is clear we are failing to do enough work to slow global warming. Pressure from the public to take more action is growing and we need to respond to this demand. In Europe, sustainability and climate change are top issues on political agendas, as shown by statements from Ursula von der Leyen, the President-elect of the European Commission.
The EIB can play an instrumental role in assisting von der Leyen's vision for a European Green Deal and the Sustainable Europe Investment Plan.
3 new goals from the EU Bank
The EU Bank is ready to embark on a new journey. We accepted the European Council's call in June to step up our activities on climate action. We now have three new proposals that solidify our role as the EU's Climate Bank:
At least 50% of EIB lending are to support climate and environmental sustainability by 2025.
We will significantly help grow sustainable finance from billions of euros in investment to trillions. The EIB Group aims to unlock €1 trillion in investments from the public and private sectors for climate and environmental sustainability by 2030.
We aim to align all EIB Group activities with the principles and goals of the Paris agreement by 2020. Any financing that is not green will be made sustainable, according to the requirements of the Paris deal.
A good example of this transition is our new Energy Lending Policy under consideration by our Board of Directors. In the new policy, we propose to phase out energy projects that rely solely on fossil fuels by the end of 2020. This change ensures that we are aligned with the Paris agreement and enhances our contribution to the creation of a carbon-neutral European economy.
It's not easy to move towards a more sustainable, low-carbon economy. This is a huge challenge. It will have to be managed well so that it doesn't hurt society and that nobody is left behind. We will need new mechanisms that ensure a fair transition, especially for vulnerable groups. The EU Bank has always supported economic and social cohesion, so it is clear that we will support a fair transition for society.
We have no choice but to create a greener future and make our climate sustainable, but this transition also can help Europe in many ways. This is a huge opportunity to modernize our cities, reduce Europe's energy dependency, grow the economy and create jobs.
Launched as a transformative contribution to the global fight against climate change, the Land Degradation Neutrality Fund seeks to support the sustainable management of 500 000 hectares of land, to reduce CO² emissions by 35 million tons, and to create jobs or improve livelihoods for over 100,000 people through its investments, with a focus on Africa, Asia and Latin America.
It aims to reach USD 300 million investment in sustainable land management and land restoration projects worldwide to achieve the Sustainable Development Goals' land degradation neutrality by 2030.
The EIB is a founding investor in this fund, which is managed by Mirova and set up in partnership with the United Nations Convention to Combat Desertification.
The Urapi initiative helps mid-size cooperatives restore degraded land and set up programmes that protect the land and forests while making it more productive. Cafe Selva Norte is a good example of a project implemented by Urapi. Cafe Selva Norte is a $12 million project in Peru that aims to protect over 20,000 hectares of land. This project is recovering degraded land and implementing productive programmes that mix timber species and coffee plants. This project involves mid-size coffee cooperatives that are growing organic and fair trade beans and have been working with Ecotierra, a developer of agroforestry projects.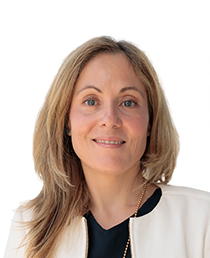 Emma Navarro
Vice President of the European Investment Bank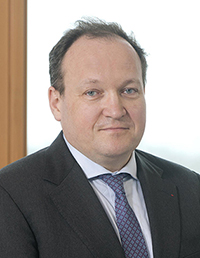 Ambroise FAYOLLE
EIB Vice President for innovation and development