Shifting to Europe's Rail
The rail sector renews its partnership with the European Union to deliver the next generation of railway
With the launch of Europe's Rail, the Shift2Rail Programme is gradually phasing out with projects still running until 2023. While the focus remains on delivering the Programme and its key results, the European rail community is looking to deliver, with Europe's Rail Joint Undertaking (EU-Rail), even more ambitious objectives. S2R has supported an unprecedented convergence of the rail sector and Europe's Rail will build upon its legacy and the need to speed up the shift to carbon neutral mobility and transport, to deliver the next-generation of railway, for passengers and freight in Europe and beyond.
Europe's Rail JU will be one of 10 European Partnerships under the Horizon Europe research initiative between the European Union and industry with an objective to accelerate the green and digital transition.
With a significant increase comparing to Shift2Rail's budget, estimated at almost 50% excluding the funding absorbed by UK entities under the previous programme, EU-Rail started officially on 30 November1, for a period of ten years, with a total amount of activities of EUR 1.2 billion to be delivered by its Members and other stakeholders under Open Calls, funded by EU-Rail with the resources provided by Horizon Europe up to EUR 600 million. The objective of Europe's Rail is to deliver a high-capacity integrated European railway network by eliminating barriers to interoperability and providing solutions for full integration, covering traffic management, vehicles, infrastructure and services, aiming at faster uptake and deployment of projects and innovations. This should exploit the huge potential for digitalisation and automation to reduce rail's costs, increase capacity, and enhance its flexibility and reliability, based on a solid reference functional system architecture shared by the sector, in coordination with the European Union Agency for Railways (ERA). By improving competitiveness, it will support Europe's technological leadership in rail, with a leverage effect of each 1EUR invested by the Union, creating more than 2EUR of Research and Innovation added value.
In addition to the European Union, represented by the European Commission, the new partnership consists of 25 industry Members, selected through a transparent process started by the European Commission in August 2020, ensuring a balanced representation of the rail sector, including the operating community, rail and infrastructure managers, the supply industry, research centres and small medium enterprises, creating an opportunity for the sector to join forces and work together.
Lastly, as already indicated, the previous eligibility criteria to access to the calls are now eliminated under Europe's Rail, which will build upon the concept of Open Calls fostering sector integration with a shared vision.
Europe's Rail's project cycle will begin at the end of the first quarter 2022, with projects kicking off in the last quarter of 2022; a second wave of calls for proposals is estimated in 2025 and a final call in 2027-2028. In addition, it is expected that on a yearly/regular basis calls for proposals will be published to complement ongoing projects, to explore new areas of interest, and perform studies and/or, for example, to fund PhDs. The phasing out of Shift2Rail projects largely in 2023 will create an optimal transition with the phasing in of the new EU-Rail projects, preventing existing research teams to have to integrate new partnerships and/or ensure the necessary handover to the new structures. For instance, the transition between the results achieved in S2R on ATO GoA2 and the activities of EU-Rail to reach demonstrators for GoA4 with a short-term market uptake ensure a seamless transition.
Europe's Rail will focus on developing the new technological and operational solutions to deliver the railway system meeting the expectations of the Sustainable and Smart Mobility Strategy. The Strategy aims to double highspeed rail traffic by 2030 and, double rail freight traffic by 2050.
For this to become a reality, rail needs to transform itself, re-invent itself, leverage its strengths – rail being a land guided system, iron on iron – and cost effectiveness. This transformation process shall be driven by the rail sector with an integrated system approach, involving technologies, operations but also the staff working in the rail system and its training to new functions and roles. Digitalisation and automation are key enablers of such transformation and are at the heart of EU-Rail as they are expected to contribute to substantially increasing the performance of rail and creating opportunities for the deployment of future proof technologies. This transformation aim to deliver new rail services to its clients – passengers and business – while attracting new ones.
To deliver on its objectives, Europe's Rail has identified five key areas. Starting with a European Traffic management layer, to set the ground for dynamic capacity and traffic management, to operate the European network with seamless operations. Secondly, operating on a performing network, EU-Rail will support projects that will improve the digitalisation and automation of train operations building upon the necessary evolution of the relevant systems, starting from radio-based ERTMS as a baseline and considering the named CCS+, next-generation ATC, and another number of key technologies. The third key area will finance research on improving sustainable assets, a holistic approach to energy management, alternative energy solutions for diesel rolling stock, sustainability and resilience of the rail system in a global approach to asset management, delivering more value. This area also focuses on the improvement of electro-mechanical components and sub-systems for the rolling stock, contributing to the overall attractiveness of the rail system for passengers.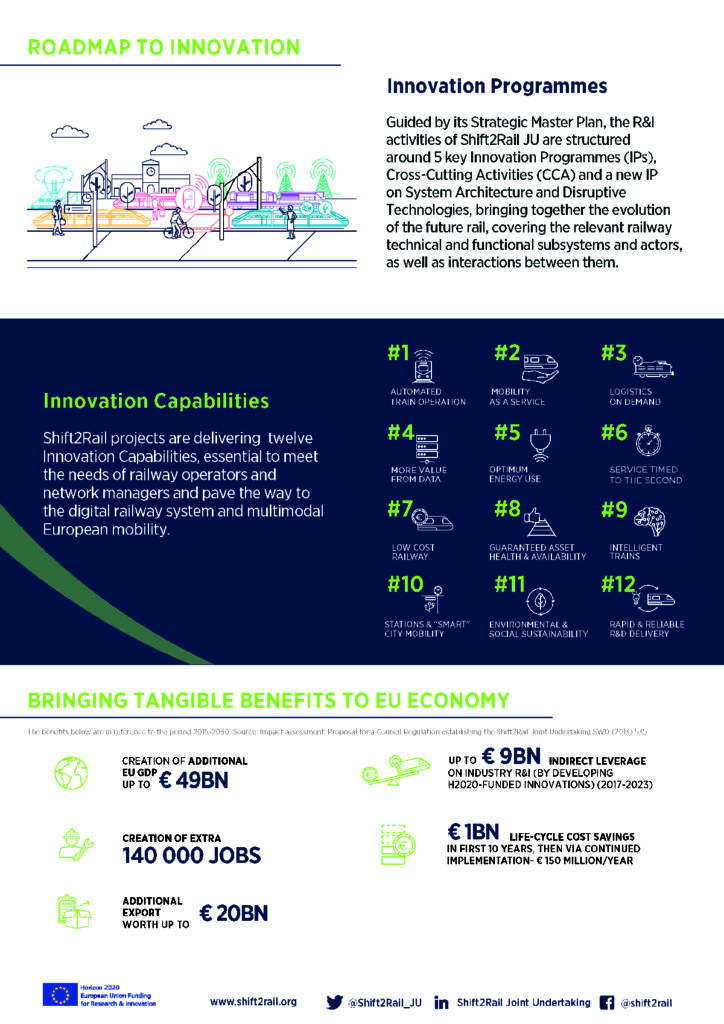 Crucial to the green transition, rail freight will be a key focus area of EU-Rail. This fourth key area will contribute to delivering a seamless rail freight system, integrating information and data for all the actors involved, and pushing for fully digital rail freight operations, breaking down existing barriers that undermine the performance of rail freight, such as coupling, brake controls, language issues, and other technologies or operational processes. Successful stories such as the DAC (Digital Automated Coupler) technology, to be adopted as an EU standard by all Member States show the added value of the integrated system approach to make efficient use of the new technologies.
Lastly, a fifth key area will contribute to connecting remote regions in Europe, with an integrated system of solutions to revitalize capillary lines and regional lines, addressing aspects related to operations, vehicle, energy solutions for a sustainable capillary network.
In order to achieve its ambitious targets and work on the aforementioned key areas, Europe's Rail is structured around three main pillars: The System Pillar, the Innovation Pillar and the Deployment Pillar, all complementing each other and incorporating the legacy from S2R.
The System Pillar will look to deliver the future concepts of operations and the underpinning system architecture, the Innovation Pillar to research, design, create, test and demonstrate at large scale innovative technological and operational solutions, and the Deployment Coordination Group to ensure that future solutions are deployed in a coordinated and consistent process at European level. With these three pillars, the innovation programmes of Shift2Rail will be re-organised in a more integrated approach within EU-Rail.
Many innovations and technologies have already seen the light through Shift2Rail. To encourage their market up-take, there need to be solid and convincing business cases designed since the beginning to demonstrate how the investment brings a clear return on investment socially and economically.
The success of the rail system convergence towards a seamless, safe, interoperable, sustainable and efficient network will depend on the capacity of the sector to reinvent itself, and on adequate policy decision to phase out obsolete systems, currently hindering the growth of rail market share. The competitiveness of the European rail industry and its excellence remain a key objective too. The European Year of Rail has boosted the attention to the rail sector, and it is now the moment to capitalise on this momentum to deliver and make rail the mobility lifestyle of passengers, the transport choice of logistic.