How small molecules support the EU strategic autonomy
Driven by the geostrategic urgency and EU's commitments to the Green Deal, Air Liquide sees essential small molecules such as hydrogen, oxygen or nitrogen, that are necessary for life and energy, as levers to support the EU autonomy in the energy and digital transition as well as for industrial growth and societal development. As a matter of fact, the private sector actively contributes, thanks to its experts and industrial leaders, to the realisation of European's Autonomy and Green ambitions. 
It is paramount to emphasise the strategic role of a market-driven approach to the economy and of an on-going dialogue between the private and public sectors to implement regulations, standardisation and financing systems in line with the reality on the field. This is particularly needed in order to ensure the EU's autonomy and resilience whether it is in the energy, climate, healthcare and digital sectors. The expected shortages in natural gas need to be taken into account in designing future regulation and earmarking public funds.
Ensuring an autonomous supply of clean energy across Europe 
The years 2020-2030 should be the decade of the hydrogen uptake: the EU has a unique competitive advantage and position to take up the challenge thanks to the diversity of its actors mastering the key technologies and its leadership through the Green Deal, to be a world leader in the environmental field. 
The next decade focused on a dual and concurrent objective: the development of the production of decarbonised hydrogen from electrolysis technology and the CO2 emission reduction through its capture in existing processes. Indeed, a pragmatic approach is needed, as the focus must be on the decarbonisation objective and all technologies that can play a role in achieving this goal should be supported through specific regulation and funding mechanisms to help decarbonise European hard to abate sectors while preserving its competitiveness.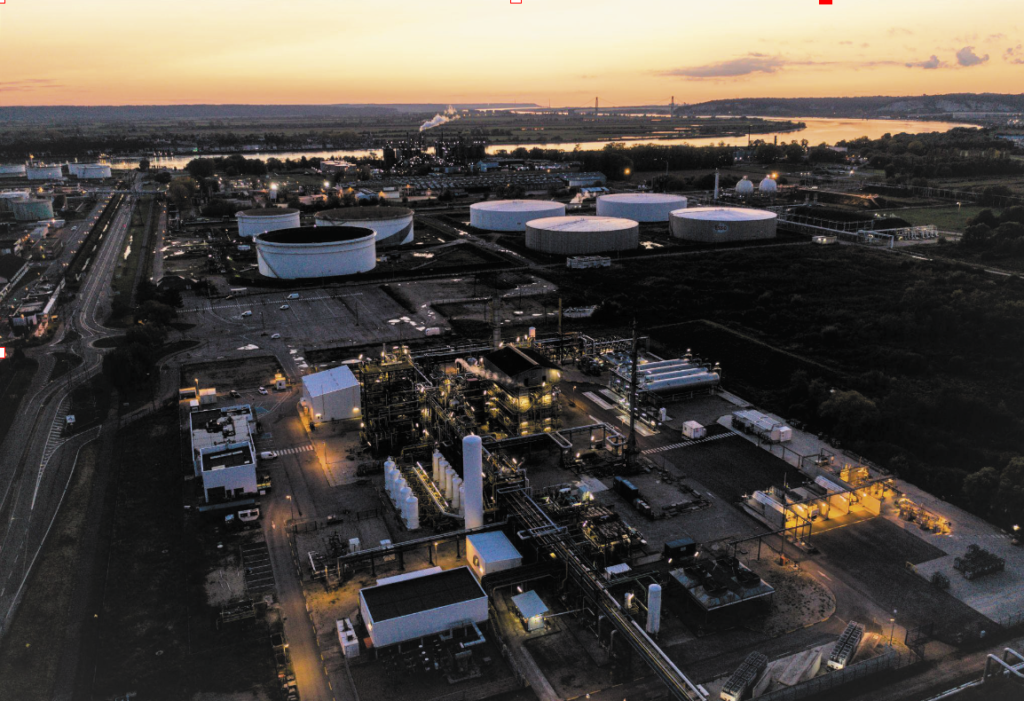 Indeed, while hydrogen production is the main starting point for the implementation of an integrated hydrogen economy in the EU, new markets will only develop if the whole hydrogen value chain is structured around the development and increasing availability of clean energy sources across Europe. The EU strategy of July 2020 sets a stepstone approach to the development of such a hydrogen framework.
It is key to now ensure that these ambitions are translated into concrete actions, i.e. starting with scaling up production in industrial clusters. Europe should first ensure as much as possible local hydrogen production capacity of clean hydrogen and its downstream applications, before subsidising expensive new or refurbished Gas transport to import hydrogen into Europe. 
The use of the ETS Innovation fund will be instrumental, notably to support the deployment of CO2 capture technologies and the implementation of European collective projects in that field. The recent large projects award decision taken by the Commission illustrates the importance to first decarbonise society, while hydrogen upscaling is being promoted in parallel to ensure Europe's clean energy supply autonomy and support the emergence of new markets. 
In parallel, we should address the development of new markets. In the light of the geopolitical crisis and as the transport sector is today heavily dependent on fossil fuels, the current conflict strengthens the case for policymakers to accelerate the clean energy transition. It is becoming imperative for both security of supply and climate action to support the installation of clean energy infrastructures and alternative fuels-powered engines, for which hydrogen has a first line role to play. Whether in air, land or water, clean hydrogen and hydrogen-based solutions are among the most promising technologies to deliver zero emission operations. These characteristics make hydrogen and its many forms an essential tool to achieve the European goal of carbon neutrality combined with energy supply autonomy. To support this ambition, Air Liquide is working together with major players of the land mobility sector to develop the use of hydrogen with major OEM as well as prominent actors in the air transport industry
Securing European industrial competitiveness using agile frameworks and tools 
The implementation of a EU smart policy framework is needed whether it is for energy, but also for the healthcare, microelectronics or space sectors that have been identified as top priorities on the European agenda. 
First, starting with "IPCEIs" to develop important projects of common interests across Europe. This tool is a major example to illustrate how industrial stakeholders all along the industrial value chain, no matter their size and geographic localisation in Europe, are committed to collaborate and participate together in the ramping up of the EU critical sectors. Moving on quickly with concrete implementation of IPCEIs would contribute to strengthen the competitive advantage of the European industry.  
In parallel, the European drive for strategic autonomy will go with the technological leadership in semiconductor technologies and applications. Air Liquide has welcomed the European Chips Act released early February. Indeed, we believe that this is instrumental to creating a European integrated microelectronics ecosystem notably by supporting EU companies, including upstream industries such as Air Liquide that are producing and supplying critical molecules to the front-end semiconductors manufacturers. Europe must be able to continue to rely on open markets to secure the shipping of critical materials from third countries partners, like in Asia or in the US. With the view to build a European semiconductor ecosystem, it is indeed necessary that upstream industries, whatever their structural size, have an improved access to critical and raw materials. 
Developing its space sector is also a must to strengthen Europe's strategic autonomy. Involved in space exploration, Air Liquide develops energy production and storage technologies to support future missions.
Our expertise also includes launch infrastructure, on-board cryogenics, and ground test equipment for launchers and satellites. We contribute to the Commission's Expert Group on Policies and Programmes Relevant To EU Space, Defence, and Aeronautics Industry. 
Last but not least, beyond industrial sectors, the covid crisis has highlighted that the EU and Member States need to do more regarding preparedness and response planning for epidemics and other serious cross-border health threats, and that national healthcare systems alone are no longer enough. In this global context, Healthcare players and decision-makers are facing the dilemma of increasing patient volumes and healthcare systems' economic sustainability. Shifting from a current commoditized model whose value relates to the provision of people and devices, to a model whose value relates to the outcomes for the patient is desirable to prepare Europe to develop stronger and less dependent health systems in the long term. Air Liquide wants to contribute and be a partner in the healthcare systems' transformation, as  a major world player in healthcare, an expert in chronic diseases follow up at home and new places of care, and supplier of services and medical gases solution for hospitals.Also, Air Liquide provides specialty ingredients used in the production of vaccines.
Ensuring a trusted relationship between private and public actors. 
European healthcare and industrial actors cannot solve the transformation alone. That is why we must work together with the public authorities as trusted partners to build diverse and resilient supply chains. As the playing field is both international and local, the EU private sector needs financing, regulatory stability and quick policy decision making to support the markets' creation and maintain Europe's position in the worldwide race. After that, it's up to the economic actors to develop concrete projects that will fulfil the EU's bold strategic autonomy ambitions.
Alliances, such as the European Launchers Alliance, the European Clean Hydrogen alliance and the Semiconductors alliances, are expected to play a central role to support the EU ambitions in this regard and must be focused on industrial deliverables based on a close collaboration between the public and private market stakeholders.